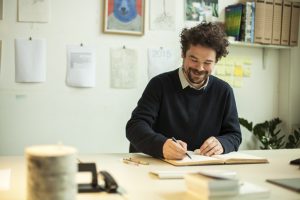 Over Jasper Eustace
Jasper Eustace komt uit Amsterdam. In 2006 studeerde hij af aan de TU Delft als architect en stedenbouwkundige. Daarop begon hij zijn studio in Girona (Spanje) en werkte daar tegelijkertijd bij architectenstudio Josep Camps & Olga Felip en Bureau Manuel Martin aan verschillende bouwprojecten.
In 2010 verhuisde hij de studio terug naar Amsterdam waar hij bezig is met lokale en internationale bouwprojecten.
—
About Jasper Eustace
Jasper Eustace was born in Amsterdam. He graduated in 2006 from the TU Delft as an architect. A year later he moved to Spain where he worked on various private housing projects throughout Catalunya.
In 2010 he moved the studio to Amsterdam where he is involved in various creative building projects.